A couple of weeks back, I experienced some things in the blogging world that made me think of stopping completely from writing and expressing my thoughts. It wasn't nice, but then again, I told myself, I shouldn't let those things stop me from sharing things that I have learnt.
I have received so many things, blessings, I call them. And I think that sharing these blessings with others is my way of giving back. So, NO! I wouldn't stop blogging, NO! I wouldn't let people pull me down and YES! I will continue to be a responsible blogger.
This pledge was a blessing. It came at the right time! I'm sharing this with you and I hope you take it, too.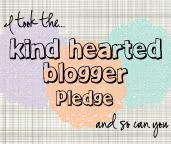 AS A KIND-HEARTED BLOGGER I PLEDGE TO:
•create, inspire, and admire rather than compete with fellow bloggers
•be understanding of each other-- in the blogging community, as well as in the world
•stay away from internet/blogging bullying
•speak my opinion freely, while still being mindful of other's feelings-- be tactful.
•make an effort--no matter how big or small the gesture, to spread kindness or joy to others
•acknowledge that I will make mistakes, (I am only human) but remember to learn from them
•know that at times I will post about the negative stuff in life, and maybe even some complaining (I am only human) but I will always follow up with something happy/positive too.
•believe that this world is a good place, filled with good people.
PS: I got the pledge from
Artistically Amy's blog
.
^Nathalie^ ^_^